The Daily Stretch News Letter
The Daily Stretch News Letter
Here you will find any new developments on stretch armstrong figures I have.News,Stories, Leads on purchases and rare stretches I may decide to sell.
Do the Stretches need a bailout too? This Article was written in June 2010 and as you can see,the toy market is finally begining comming back and armstrong figures are once again starting to sell at higher prices.My advice is when you find one thats clean to mint,grab it becuase the prices are gonna climb more over the next few years before they level off again.Even a not so great armstrong figure can sell for hundreds as they are slowly becoming more rare each passing year.
You may be seeing things going downhill these days.Seems everywhere we turn prices are going up on goods and services.The words Inflation and even hyperinflation are being carefully whispered throughout the halls of congress.Higher prices or inflation means people have less money to buy the things they need or even just want.So what about the Stretches? Back in 2007 not even 3 years ago,stretch figures were bringing in astounding prices,Denys Hulks were achieving record sales between 5,000 and 8,000.Armstrongs were pulling in 2,400 and the Stretch Serpent sold for almost 12,000! So what is going on lately? Why can you now buy a Denys Hulk for under 1,400 and armstrongs for only hundreds instead of thousands?Well,Like any other market that goes through its downturn,the Stretch Amrstrong Market is seeing somewhat tough times too.In fact everything on ebay is bringing in record low sales numbers.Lack of money,loss of jobs,impending inflation are all results of this economic crisis.So what does that mean to the savy Stretch Arsmtrong Collector? I have but three words, "BUY AND HOLD". Times like these are not only for the losers but also for the winners to take advantage of aquiring things at low cost and holding them untill the economy returns for big profits!! I dont only collect stretch figure,I also collect homes and apartment houses.When I buy, I buy them low and sell them High for big gains.Same with Gold.Gold was only selling for a mere 300 an ounce only a few years back and now its hitting astonishing numbers of well over 1,200 per ounce! Just as Gold and realestate have their respective climbs and dips so do stretches and the vintage toy market.As soon as people begin to see their profits again in business and in their wages,they are gonna look for that stretch armstrong figure they could not afford when they were broke and they are gonna pay big to get it!!So my fellow Stretch Armstrong collectors,no need to fret none.Original Vintage Stretch Armstrong Figures will only get older and more valuable in the years to come.The Stretch King will never give you bad advice,and the King says,buy low and sell high.Stretches are in it for the long haul.
Kenner, a brief History
Kenner Products was a toy company founded in 1947 by three brothers, Albert, Phillip, and Joseph L. Steiner, in Cincinnati, Ohio, United States, and was named after the street where the original corporate offices were located.
Kenner introduced its popular Girder and Panel building sets construction toy in 1957, the Give-a-Show projector in 1959, the Easy-Bake Oven in 1963, the Spirograph drawing toy in 1966,The Stretch Armstrong figure in 1976 and the Starting Lineup sports action figure collectible line in 1988. It was a pioneer in the use of television as a medium for advertising toys across the United States, beginning in 1958.
In the early 1960s, Kenner introduced its coporate mascot, The Kenner Gooney Bird, which would be used in both its company logo ("It's Kenner! It's fun!") and TV ads, in both animated form and puppetry. (One commercial was produced by Muppets creator Jim Henson) The Bird was phased out by 1974.The company was purchased by General Mills in 1967.
In 1970, General Mills merged its Rainbow Crafts division into Kenner Products, bringing Play-Doh into the Kenner product line.Kenner Products obtained the rights to produce action figures and playsets for the Star Wars trilogy from 1977-1984. After Kenner acquired the license to produce Star Wars toys when the Mego Corporation rejected it in 1976, Kenner popularized the 3.75 inch action figure that became an industry standard and continues to dominate the action figure toy market.
1976 was also the year Kenner introduced the highly succesful Corn Syrup filled latex action figure Stretch Armstrong,followed by Stretch Monster, Stretch X Ray,Stretch Octopus and Stretch Serpent.In 1979 Kenner succesfully sued Mego Corp for basiclally stealing their idea and producing the Mego Elastic Stretch Figure Line. Kenner also produced toys related to the popular 70s TV series The Six Million Dollar Man. In 1981, Kenner belatedly entered the diecast toy car market, with a short-lived range called Fast 111's.
One of Kenner's most highly acclaimed lines was the Super Powers Collection. These action figures were based on the famed superheroes of DC Comics. What made the line so successful was that the characters were modeled almost exactly from the style guide of the company; and also, each character performed some "action." For example, if you squeezed Superman's legs, he would throw a punch.
This set was produced from 1984 to 1986. In 1990, the company unleashed the Dark Knight Collection which was the first of their many lines based on the Batman character. This initial set was created to capitalize on the phenomenal success of the cinematic version of the character.
In 1985, General Mills spun off its Kenner and Parker toy divisions to form Kenner Parker Toys, Inc. Kenner Parker was acquired by Tonka in 1987. Under Tonka management, Kenner Products was reconstituted as a division.
Tonka (including Kenner) was purchased by the toy company Hasbro in mid-1991. Hasbro closed the Cincinnati offices of Kenner in 2000, and Kenner's product lines were merged into Hasbro's.
Are you a big fan of the stretches? Do you totally love Stretch Armstrong World? Well now you can Join the Stretch Armstrong World Fan Club! A great way to become part of Stretch Armstrong World.You will recieve the Stretch Armstrong World quarterly newsletter,Suprise gifts in your mailbox,and even a chance to show your Stretch Collection here on Stretch Armstrong World.You can become a Lifetime memeber for only $49.00. As a Member,you will be notified first by the Stretch King of any great Stretch Figure Deals as well as earning a direct line to the Stretch King himself!Keep an eye on Stretch Arsmtrong World for more details on how to join.
Where have they all gone?
Several years ago I mad a prediction to some other fellow collectors that withing a few short years these Stretch Armstrong figures will begin to diminish in numbers and appear much less frequently on ebay. Well my stretchy friends. Guess what? I was right. Did you notice that the Stretches are no longer making an appearance as they did only a few years ago. The Last Mego Elastic Hulk to appear was almost 1 year apart from the prior Hulk and The Monsters are only popping up about 1 every 3 to 6 months. Even the most common of the 1st origianal 7 Stretch figures the Stretch X Ray, seems to have vanished as well as the Ollie Octopus which are only seen about 1 every 5 months if your lucky.The Stretch Armstrongs of old are of the same scarcity. A few years ago when I started collecting, Armstrongs and Monsters were popping up in some decent numbers of about 4 or 7 every 2 to 5 months. Many of them were mint or close to mint. Slowly they began to show up in varying conditions from decent to bad and today most of the stretches you will see are only a 3 to 5 out of ten condition. The most perfect Armstrongs sold about 7 years ago and I bought many of them.I currently have a Monster and Armstrong on ebay right now which are the only ones listed in the last 3 month and still no others have appeared.There still may be a few minty straglers out there but nothing like there was several years ago. My theory about the scarcity of these fine collectable toys is this, The Majority of these rare stretch figurs were torn apart in the first few weeks of there production in 1976 leaving only a handfull to survive the next 32 plus years to the present date of 2008. Of this handfull, at least 80 percent of them were tossed into the garbage,left out in the cold garage to freeze and split, or some hot attick where it boiled and oozed or was eating by mice or ants.Yes, these stretch figures are that rare these days and there will be a point when almost every one of the only few remaining Stretch Figures will be held with a greedy tight grip in the hands of collectors that will no longer let them go, making them almost unavailable and even more valuable. So stretchys beware and be alert for those very very few remaining stretch figures out there. You never know when you may be looking at the last one.
Stretch Arsmtrong comming to a theatre near you?
March 21, 2001 - The Hollywood Reporter as of late last summer said that Jackie Chan was negotiating with Disney to co-develop the action-comedy feature Stretch Armstrong, based on the elastic Kenner Toys Inc. superhero action figure of the same name.However the final choice to portray Stretch Armstrong will be taylor Lautner from the telivision series Twilight. Paul Schiff and Doug Draizin are to produce the long-in-development project, which hasn't yet been greenlit and has no director attached. Scribes Bill Collage and Adam Cooper are to tailor the script to Chan's strength as a comedic, martial artist. With this project Chan re-teams with Disney as in Shanghai Noon. In the story Chan stars as an uptight Chinese spy and martial artist who stumbles upon a secret formula that gives him stretching powers. With his newfound abilities, the character, who was previously in control and used precise fighting moves, must adapt to use his new skills. The project previously attracted such talents as Tim Allen, Danny DeVito and British video helmer Peter Care.The Stretch Armsotrng Movie may be released in the summer of 2008!
Stretch Armstong The Motion Picture!!!
On January 16, 2008, American toy company Hasbro, Inc. filed to protect the trademark Stretch Armstrong in relation to "production and distribution of motion pictures, television programs, television games shows and cartoon series; on-going television programs in the nature of children's game shows and animated television cartoon series; providing interactive computer games by means of a global computer network."
Hasbro filed way back in 2003 for a Stretch Armstrong trademark related to a movie and TV show. While that trademark is still active, this more recent filing could be an indication that a Stretch Armstrong movie is one step closer to reality.
According to IGN and others, The Hollywood Reporter reported back in 2000 that Jackie Chan was negotiating with Disney to co-develop a Stretch Armstrong action-comedy feature. The story at that time was said to focus on Chan as an "uptight Chinese spy and martial artist who stumbles upon a secret formula that gives him stretching powers." However, the project had been creeping along in development for years before the announcement of Chan's potential involvement. And Chan was the third actor to be associated with the project. Previous potential "Stretches" were Tim Allen, and Danny DeVito.
While the Stretch Armstrong page at Hollywood.com still lists detailed cast and crew info for the rumored film, there is currently no film-related Stretch Armstrong entry on IMDb, or reference to the film on the pages of the people and companies supposedly involved.
Mork wonders if this new filing suggests that new developments and/or news on the Stretch Armstrong project is forthcoming.
The Murder Trial Verdict!
A Stretch Armstrong Figure involved in a 27 year old murder case.
Last year the Chief of Alturas County California Police Department contacted me at Stretch Armstrong World asking for some help concerning a 27 year old murder case of a 9 month old baby boy.The defense states that A Stretch Armstrong Figure fell off a dresser and killed the 9 month old who had multiple bruises 9 broken ribs a ruptured liver and a fractured skull which would indicate that the Armstrong Figure was in fact innocent.Chief Ken Barnes asked me if I had a Stretch Armstorng Figure he could purchase for use in the trial in September of 2007.I could only do what was right by that poor baby and help to be one of the many voices that could speak for him over 27 years after his death.I was happy to donate a Stretch Armstrong Figure for use in the trial.The defendant pleaded guilty to the voluntary manslaughter charge avoiding further trial for murder.The case has been published in the Modoc Record Newspaper and Klamath Falls Oregon Harold and News. The Stretch Armstorng Figure is curently held in evidence with the District Attorney and will soon be on its way back to Stretch Armstrong World.
Stretch Cotton Candy?
Did you know that the Lifeblood of Stretch Armstrong when lit, burns like a petroleum and smells like cotton candy?

Are you worthy to have a Vintage Stretch Figure?

Well, to answer this odd question, one must ask themselves, Hmm?? Am I a good person? Do I hurt other people? and Do I really Love the Stretches? In a nutshell, what Im saying is,only good, honest, loving and humble people really deserve to own a Stretch Armstrong Figure.These are the people that really understand just what they have in there hands when they are looking at such a rare and meaningfull vintage toy as a Stretch Armstrong. A Humble person knows that even though the Stretch sitting in their hand though smaller is yet much bigger than they are. Yes, those Cool Vintage Stretch Octopi buds, That Amber X Ray, and ahh...yes...That wonderful Smooshy Armstrong of old.These are the memories of our past that meant more to us than the world itself, and for some reason just enough survived to come back to those chosen few good people that really and truly deserve them. Have the past 30 years hardened you and and changed you into a different person than you once were? Do you send nasty, harassing emails to people just because they have stretches and you dont? Well if the answer is yes, then you will also have the answer to another question... Why dont I have a Vintage Stretch Figure? Because my friend.. you are not worthy of one. Become humble and the Stretches may come your way.

Stretch Figures, Good as Gold
Just as fine Gold is purchased as an investment, Vintage and rare stretch figures can also be a fine investment. Rare and Vintage Toys have been selling for huge dollar amounts for decades and will continue to for a long time to come. Just as one would look to Gold for a safe long term investment. One should do the very same with these fine collectable stretch figures. These stretches are very similiar to Gold in that aspect and can be a very good long term investment. When the economy takes a dump, you will be able to depend on the resale value of these fine collectables because they stand alone, just as Gold does in an infationary economy. Gold has recently hit its highest value since the early 1980s reaching over $1,600.00 per ounce! Only 6 years ago Gold was only 400 dollars an ounce. thats a huge increase and one hell of an investment.Stretch Armstrong Figures can be the same great investment and a secure hedge against inflation as Gold.Just think if you would have purchased 100 Stretch Armstrongs 30 years ago for $9.00 each and sold them all now for $1,800.00 each which is very minimun value for a Mint Brand New Armstrong which I have never even seen so it would sell for even more. Your $900 initial investment would have grown to over $130,000 plus compund interest for doing absolutely nothing! Not to metion a 40 year old person investing this money today for the next 20 years in a moderatly agressive savings fund, he or she would have over half a Million dollars!! And every one of those 100 stretches would sell today you can bet on it!I have seen these stretch figures skyrocket to incredible prices and they are still climbing! In fact, already this year 2008 has seen some of the highest prices paid yet for stretch figures to date! This is because people realize just how rare these babies are not to mention how dam cool they are.Becomming more rare by the day, these figures are getting scooped up by collectors everywhere and will sooner or later become even more scarce making their value climb. Good old Stretch Armstrong Figures have proven to be a very safe investment that can also bring great satisfaction just as owning a piece of Gold.
Commentary: Worry not My fellow Stretchy,s. Many Stretch Collectors and potential Collectors may be concerned about long term values and preservation of these Mighty Stretch Figures,and with good reason they should.Over the years of collecting I spent countless hours gathering information from College Professors, Collectors and Internet Research as well as my own study of these stretch specimens to not only understand what factors are detrimental to the skin but most importantly finding the solution to long term preservation.I have in fact discovered precicely the 4 key factors in Stretch Preservation that will no doubt sustain them in their pristine state for another 30 years and beyond.This preservation process was classified,however I recently declassified this information and made it available to every stretch collector. The preservation process is very important to maintain the condition and value of these toys and will surly give any collector an advantage in regards to value and when it comes time to cash in on your Stretch Figure.That being said, we must understand exactly what is important in the long term preservation and just what can be ignored.As I have always said,the vintage stretch figures even in pristine condition must be treated with respect and care and should never be stretched untill very well inspected and even then there is a possiblity of tearing and damaging the figure.So just what is the single most important part of the stretch figure when it comes to long term value? The answer is unequivocally the Latex Skin. When a stretch figure is found hard, it doesnt really matter. What matters is that the skin is still clean,untorn,supple, with no dryrot or LBS (Latex Breakdown Syndrom).Now many stretch figures even today after 30 years are still perfectly soft and may just stay soft another 30 years if well cared for, however the converse may also hold true that in time that your stretch may solidify,which brings me to the point I am making here. Stretches can be drained and refilled with either Surup that will stay soft for another 30 years or more or they can be refilled with a dry substance, ie beans,rice, dried corn cob bits just as the Vac Man is filled with or my favorite choice,cotton.You see,what Im saying is that we dont stretch these figures anyway so why with such a scarce and rare toy should anything other than the surface or exterior be the deciding factor in its value? One cannot stretch a hard plastic GI Joe action figure right? and a vintage GI Joe action figures value is based on the conditon of its exterior surface, not the inside of the hollow arm or legs.With vintage toys of such originality,and scarcity as a stretch figure,there has to be a certian amount of felxability when determinine their condition and value.Now although draining a stretch arsmtrong figure can be a positive thing. A stretch Figure should never be drained or repaired just because it has hardened unless the Stretch Figure has solidified in a manner that cause the skin to have folds or become deflated.Then one can drain and refill it as to bring it back to its full form thus keeping the latex skin from becomming permanently fixed or creased.Just to be able to look at these figures in there full form is enough to ask because 99% of them are all gone.I actually prefer some of my stretch figures refilled with dry substance or cotton because I no longer have to be concerned with it hardening.Now,dont misunderstand, I am not saying to drain your stretch if it is still soft and full because nothing is better than a vintage stretch figure in its original soft condition and yes it will be worth top dollar if it is still soft and full.However any stretch that has minty fresh skin and is hard or has been refilled through the neck cavity only,I would personally still place a very high to maximum value on it depending on which stretch figure it was and how well the refill was done.So my fellow Stretchys, please do not be concerned with,"but I cant stretch it anymore cuz its hard",or "its not original syrup inside",or,"his head is on backward".one cannot be too fussy when it comes to these incredibly rare stretch figures.Instead concern yourself with the outer skin and how well it will display.The Skin and its form is key to their value and they can easily be refilled and preserved.Besides,if your that concerned about preservation,you can always encapsulate your stretch in a vacumed sealed uv Ray resisitant case which will positively preserve them for an eternity,because Afterall,we dont stretch these amazing figures anymore,we only now look at them in amazment.Would anyone dare to bat Babe Ruths 714 homerun Baseball? NO,we just look at it in all its glory!
The Stretchy Zone
In the Stretch Kingdom, there lies a fine line between collectors and stretchys. Collectors of these fine vintage action figures Know exactly just how rare they are. They are aware of the key factors that put these stretches in a catagory of their own in the vintage toy arena. Old? Yes, Cool? you know it, Desireable? Totally. But most of all, Perrishable. Collectors know just how fragile these stretches can become. this key factor alone places them in a class all by themselves. These are not maintenance free Vintage Toys that you can throw in your closet for the next 30 years. These Almighty Stretches need attention and care in order to not only preserve their condition, but to maintain and repectively increase their monetary value. Afterall, Good things in this life usually do cost ya. Collectors in a nut shell "Know their Shit".
Now on the other side of the fine line are what I call Stretchys. Stretchys are the Crazy, nutty, insane newcomers who freak at the site of that first Stretch Armstrong they finally get to see in 35 years. These wacked out Stretchys which I started out as will get their first Armstrong or Monster and begin to fondel it, Smell it, Squeeze it. and maybe even kiss it goodnight once or twice. Stretchys dont know that the first single smell of that luscious latex, The very first squeeze of that 30 year old syrup that somehow stayed soft, The long awaited opening of that Stretch Box that reveals all our happy Christmas, childhood memories of old, will soon take them to the next and most dareing stretch level of all. This is when the Stretchy becomes,TaDaaa!! a Collector.
Once a Stretchy crosses that fine line in the stretch kingdom, there is no turning back! You will begin to feel your blood boil at the site of the stretch you need. You will begin to steadily increase the flow of stretches that come to your doorstep, delivered by that mailman you once hated and now greet with some homemade Chocolate Chip Cookies and a loving childlike smile. The dresser drawer that once was sufficiant to hold your single Stretch Armstrong figure can no longer accomidate the massive daily influx of Stretches that flow through your front door. You have in fact crossed over............ "The Stretchy Zone" Where your business, your marriage, your children are no longer top priority. All the things that were once important in your life have now become, well, for lack of a better word, meaningless. All you can think about is Stretches. No matter what you are doing, all that runs through your itty bitty brain is stretches!, stretches!, stretches! You may find yourself in the most intimate moments with your lover and guess what will fill your head? Stretches. You are being reprimanded by your boss for slacking and guess what you will be invisioning? Stretches. Stretches Stretches Stretches, Ebay Ebay Ebay, Stretches!!! It will begin to take over your life and consume you in the most awsome and wonderfull way only the Stretches know how. Day and night,with uncanny speed, you will punch in the Ebay search words STRETCH ARMSTRONG, and will begin to wear out the print of those same letters on your keypad. You tried so hard to Stay a Stretchy, but you lost your controll and you became a Collector. There is no shame in admitting it, for a Stretch Collector by definition is an Advanced Stretchy with Balls. Words of advice from the Stretch King himself, If you become a Collector, you will totally love it, but be ready to break the bank for an investment ride of your life!!!!!
A great Stretch Hulk Story I just had to share. A guy named Chuck recently contacted me on buying some stretch items.He told about a stretch Incredible Hulk he once had when he was about 14 years old.These stretches are known for being soft, yet hard when you punch or hit them. This being said, Chuck decided to see if His Hulk would stand up to a 22 cal. Rifle!! This is so cool.Chuck set up the Hulk and aimed at the Green Giant and fired a round directly at his chest!! What do you think happened? You may have guessed it. The Bullet bounced right off the Hulks chest and caused only a pinhole size tear in just the skin!!! No damage otherwize! This just proves how indestructable the Hulk really is.Even a syrup filled Hulk can not be destroyed! Totally Awsome!!, Thanks chuck.
STRETCH STRETCH STRETCH STRETCH STRETCH STRETCH STERTCH STRETCH STRETCH STRETCH
Silicone Emulsion and Stretch Monster
Check this out. This is the front page of a 1978 Dow Corning magazine called Materials News. Notice the bottom caption reads, "More Stretches Longer Life with silicone emulsion page 3 ". I am researching this more to locate the actual magazine so I can find the article on page 3 that discusses this topic. Silicone emulsion was used as a release agent and lubricant for the molds which helped to create a better more durable figure that held up to more stretches. They used the Monster as the example which may be why these Monsters are found in such pristine condition above all the other stretches. Most of the Monsters I have seen have a very supple skin. Appearently Kenner incorporated the use of Silicone emulsions into the makeing of their Stretch Monsters to create a Super Stretch Monster. More to come on this very interesting topic.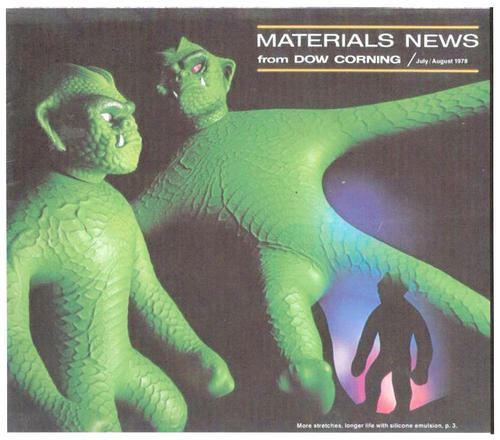 Stretch Armstrongs 4 sale
I have 18 Absolutely perfect Stretch Armstrongs and I am willing to let one or two go for the right price only.I bought these figures years ago when all the perfect armstrongs were more abundant. The boxes have all flaps and side,even has the top lid.I will guaruntee you will love it or your money back!No questions asked. You will go nuts when you see how perfect they are!I still cant believe I found these Stretches! They look like they were carved from stone.They look even better than the one pictured on the box. I will only take $2,000.00 or I will keep them.Thats how perfect these are. Believe me these Armstrongs are worth the money.I am not listing these on ebay.This is only for a chosen few collectors who end up seeing this offer. This offer stands only for a time because I dont know if I really want to let them go. Email me if you are interested from the contact page of this site.
What exactly is that Goopy Crap?
To define exactly just what is inside the Stretch Armstrongs of old and new is something that needs to be said no doubt. The sticky stuff has had many names over the years, Taffy, Honey,Deadly if eaten stuff, Burns holes in the styrofoam stuff, I have no idea what this crap is stuff and many more. First of all, Do you really think Kenner would put a deadly, unknown, styrofoam eating, substance inside a toy that is forseen to leak? Hell no!! Yes this crap is probably the stickiest shit I have ever seen that you could hang off the ceiling from your ass with, but let me share with you what in fact it really is. To define its chemical makeup using big hard to understand scientific terms is as follows. BOILED CORN SYRUP. Thats right, it is simply Corn Syrup that has been boiled down to remove the water content to form a more gel like substance which has flow and memory characteristics that when stretched returns to its original position by elastometric recovery of the latex skin. Hows that for a scientific definition.So here we have it, all these bad rumors are now finally put to rest. Its just Corn Syrup! you bunch of wimpering,trying to put kenner out of business but wipes!I think im gonna put some on my pancakes in the morning. Yummy!!!!!!!
A very Corny Vac Man.
Whats the stuff inside of the 1990s Vac Man Stretch Figure? You Guessed it, Ground up Corn Cobs. It took me some time to figure this out but this is exactly what it is. How did they come up with that one? Hmm Joe Executive, what do ya think we can fill our new Vac Man with? I dont know Cap Toy President. Wait,I Got It!! Ground up corn cobs! Who the hell would think of that! They could have used rice, oats, small dried peas etc, etc. But no, they come up with Ground Corn Cob.Only thing I can think of to explain that is Cap Toys is located in Alabama.
Why I collect Stretch Figures
Back in 1976, I was a 10 year old kid running around playing street Hockey. building Club Houses,climbing trees and playing with G.I. Joes. I lived on a dead end street called St Margarets Court. I almost never strayed more than a half mile from my home cuz I had everything a happy 10 year old kid needed right there. Christmas at my home was always the greatest thing for me because my Mom would always get me the coolest and most popular toys. I always Loved race car sets, Atari games,Hulk stuff, Legos and of course when they Hit the seen in 76, The almighty STretch Armstrong! What was this thing that could stretch forever and return to its normal size. I knew I had to have him at any cost of my Moms Money. When Christmas season came around, I actually measured the stretch Box In the store with a piece of cardboard I took with me. This way when I saw it under the tree I could remeasure the gift box and confirm it was my Armstrong. Not a bad idea for a ten year old. I used to look at that box for weeks under the tree and listen to Christmas music by Frank Sinatra, and Johnny Mathis. The Food around our house at Christmas was amazing as you would think comming from an all Italian family.Christmas Eve would bring me only one day closer to opening my Stretch Armstrong! I couldnt wait till the morning. The anticipation was overwhelming!When Christmas Morning finally came, I purposely opened every other present first because i didnt want the exitment to end. But when it was the final gift to open, Off came the wrapping paper in a heated, tearing, wripping, frenzy! There it was, My first Stretch Armstrong! I will never forget how amazing it felt to see him. I cut the front of the box so that it would open like a door instead of sliding him out. He was never too far from me for the next several weeks. I could never understand to this day what it is about the stretches I love so much. But now as an adult , I think I finally figured it out. Im Nuts! Im an obsessive freak that cant stop collecting these bad boys! Every time I get one in the mail it feels like 1976 Christmas all over again! I Love It!!!! These things are the coolest, most awsome toys ever! When you find one thats still soft, its like its still alive and breathing. what other toy can make you feel that way? Well, go ahead, tell me! These Stretches are in a catagory of their own in the vintage toy arena. Not only do you have to find one that is still soft, but it has to be free of holes, the skin has to be supple, and then you have to preserve them. What a challange! Definitely not your average action figure. After 30 years, some of them amazingly still remain, and I must have them all! Anyway,thats the reason I collect stretches.And its good enough for me.
I have had a tremendous and positive response from all the collectors out there in regards to all the great stuff on this website, especially the Denys Fisher Hulk and Mego Elastics. I look forward to answering any questions in the future and want to thank all the collectors out there who are makeing this website a lot of fun. Keep the emails comming!!!!!!!!!