Stretch Armstrong World Trading Post
Stretch Armstrongs for sale,and Trade. I also can make Box copies, see below for details Better Hurry, the Stretch Figures are slowly dissapearing.
Here is one of the very few places you will find these rare stretch figures
Minty fresh 1976 Stretch Armstrongs for sale. You may think this is a high price and your right,it is! but when you see what your getting you wont even care.these arsmtrongs are the very best,most perfect ones you have ever seen.I will sell only a limited quantity of them each for 2,500. Boxed with Instructions, Neck Tag,stretch mat,even bandaids.Bandaids are very limited. This includes Shipping in the U.S.These babies are like Brand New and have absolutely perfect full shape! I bought these in the very begining several years ago when all the perfect ones were selling. I have only 15 of these perfect Armstrongs which are most likely the majority of all the mint ones left in existence today. I bought them all up and now is your chance to have the best one ever! Boxes are very clean with all sides and flaps but vary in condition.You will not believe your eyes when you buy one of these Armstrongs! They are the best of the best, totally soft, smooth, and supple. I will also include a Bottle of pure silicone oil that will preserve your stretch figure for another 30 years and more! If you want one for Next Christmas or for a upcomming Birthday Present, order it now and make your 40 year old hubby a happy man by giving him the best of the best! You will not find better ones, they are all gone. If you want to send a Money Order ,go to the contact page on this site and I will give yo the mailing address.You will not be sorry once you see the condition of these most amazing armstrong.Contact me at willabeee@yahoo.com
I offer a full Money Back Garuntee if you are not happy for any reason as long as I get them back undamaged..These incredible Armstrongs are pictured on the Home page as well as the Ultimate Armstrongs Page of this site.No worries buying from the Stretch King!

I have the following Stretch Figures boxed for sale, also Stretch Mandrels (Molds). Just ask.I am open to best offers on certian items. Email me at the following address and tell me what you are looking for, I may have it my email is willabeee@yahoo.com
For Sale or Trade
Stretch Rejuvinator silicone oil preservative for sale $27.00.Look at prior page for details This stuff will make your stretch look like new again and preserve it for a lifetime!
Stretch X Ray boxed Mint Condition $499.00 $10 S/H
X RAy Boxed Mint with X Ray Aluminum Mold $389.00 $20 S/H
Stretch X Ray preowned by Actor leonardo Dicaprio.From his personal toy collection.Purchased from morphys Auctions,have all tags verifying Leonardos ownership. $2,875.00
Original Stretch Armstrong with box( PATCH ON ARM AND LEG no leaks) A great looking Stretch very clean,$189.00 $12 S/H (SOLD)
Stretch Homer Simpson,(mib) $175.00 $10.00 S/H 1 available SOLD
Stretch Mr Fantastic,(mib) $100.00 $10.00 S/H 1 left
Mego Elastic Batman,(ONLY 2 KNOWN TO EXIST) Free Overnight Delivered, Insured, Tracking and signed for. SOLD! 15,000
Only Mint Mego Elastic Batman in the world! $18,000is a perfectly Mint example of the Mego Elastic Batman that you will not obtain anywhere
Mego Elastic incredible Hulk (refilled with dry substance, Box Copy $2,800 SOLD!
Mego Elastic Spiderman (Repaired and refilled with dry substance, very Nice box). $780.00 Sold
Mego Elastic Spiderman, perfectly mint except for one small slit on the back heel where the refill was done. this Spidey is absolutly perfect and comes with original box and instructions! The best spidey I have ever seen.Only about 14 spideys in existence to date. $ 2,400 firm.SOLD
Italian Stretch Monster Mint, Hardened some,Box is a 9 of 10 $775.00 plus Free Shipping. in US SOLD

Only One Original 70s Stretch Armstrong Ceramic Mold,These Molds were used to produce the actual Stretch Armstrong Figure of old. very very rare and I have only one to sell.Only 7 have been found to date. Free S/H Insured, Signiture upon reciept delivery. 1,875Ceramic $2,000 Aluminum $1,800 no longer for sale.
Denys Fisher Stretch Incredible Hulk, Boxed, instructions Free S/H Delivery confirmation, tracking, and insured overnight delivery. This Hulk is a 9 out of ten and comes with original Box and Instructions. There are only 30 of these Denys Fisher Stretch Hulks known in the world right now! Hurry before I change my mind. $2,100
Stretch X Ray Aluminum Dip Mold. only 1 left Hurry! $299.00 $10 S/H SOLD

1970s Stretch Armstrong, Boxed with coffin, still soft. $349.00 Sold

1970s Stretch Armstrong Box , No top, $40.00 $5 S/H SOLD
Can also send you a copy of any instructions or Neck Tag for $10.00
Mego Elastic Incredible hulk Full of syrup with original box and instructions To see this great hulk go to ebay. This is the number one best Hulk of them all.Its brand new and in perfect minty condition.Only $5,800 valued at 10,000 there are only 10 of these in the world!
Stretch arsmtrong 1970s Box Copy professionally made by the Stretch King $198.00 $7 S/H .these boxes are beautiful and worth every penny.
willabeee@yahoo.com
If you see something you like,or have somthing in mind not shown here, I may have it for you. Go to the contact page, email me at willabeee@yahoo.com and we can discuss payment and shipping arrangements.
Stretch Incredible Hulk for Sale!
A very rare find indeed for a vary low price.
Below is a very rare Stretch Incredible Hulk made by Denys Fisher and Licensed by Kenner. Only 30 of these Hulks exist today.This hulk is still soft and does have a repair on the hand and the collar bone that does not detract from how well he displays.One cannot be fussy when it comes to owning one of these rare pieces especially at this price. The last Denys Hulk sold for over $5,000! You may never see one again because these were produced only in the united Kingdom way back in 1976. Best offers accepted.Because this one has a repair it has a very loa Asking Price of only $850 PLease contact me from the contact page of this site if U R interested.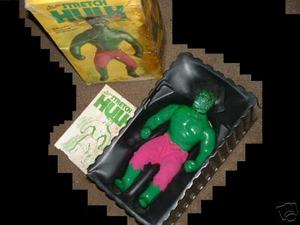 Win A stretch Box Copy of your choice, Details on the Stretches That May Exist Page
Perfect Box Copies of any Stretch Figure $144.00 shipping included! Below is one of my Box Copies that I made. I can make any box copy for you . These boxes look amazing! I make exact high quality lazer prints of the box and use cardboard stock very similiar to the original. You wont believe how perfect these boxes turn out. it takes me about 3 hours to make each box and they will accommodate the original coffin inserts perfectly as the original does. These boxes turn out better than the originals because they have no tears and are like new. depending on which box you request ,each copy will have more or less blemishes transfered from the original box. But all my originals are in great condition.If you want a copy made, go to the Master list page of this site. You can choose any box from the list that is in yellow text. you will love haveing a nice new box for your stretch. Comes with all flaps and has vivid clear grafix and text.See more examples of my copies on photo page 1, Serpent box copy and more angles of hulk box.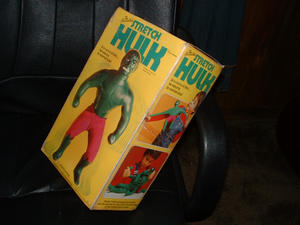 Below is a beautiful Stretch Armstrong Specimen indeed. The one in the picture is not the actual Figure, however it looks exactly like this. I will update photos or send you one upon request.This Armstrong is still soft and has only one small timy hole behind its leg that was sealed.Does not come with Stretch Matt,sorry, $ 2,000 SOLD!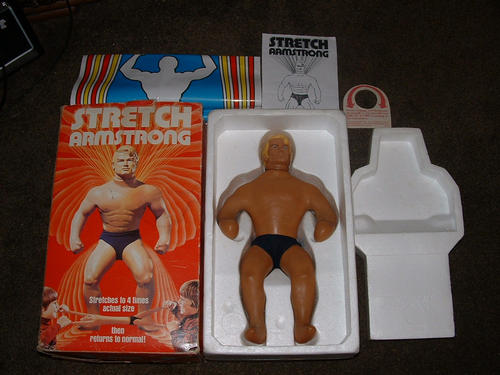 Stretch Armstrong with Manood for sale 7,000 This is one of only 2 in existence.Only two were ever produced.Checkout the full story on this rare figure on my website.Its really amazing!
Below are Very hard to find Origianl Mini Stretch Armstrong Aluminum Dip Molds.
These molds are 15 years old and were used to produce the Cap Toys Mini Stretch Armstrongs! Still have Talc Powder reside on them from production. I have several of these and they are the last fo their kind. The factory that produced these figures is closing its doors for good in only another week. All the Aluminum molds were sent off for scraping. Get them while they last. i am selling them at only $ 23.50 each and I will give a deal on the entire set of about 8 to 10 for $20.00 each.SOLD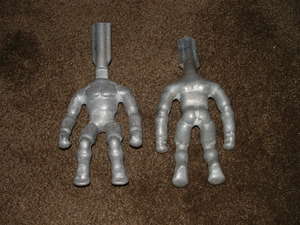 SOLD $799.00 Pictured Above yet another Armstrong 4 Sale. This one is a totally mint and totally soft Stretch Armstrong. It has no holes at all.Perfectly clean like new! Box is in great condition with only the top flap missing, but I can make a color copy of the top for ya upon request. This Armstrong is one of the best out there. It was never stretched and even smells like new. You can stretch this armstrong just like when it was new in the 1970s.Still soft like day one. Very hard to find this nice.Spend the money once anad have him 4 ever. you will be very happy with this Stretch Armstrong. Worth every penney! $799.00 plus 10.00 S/H in the U.S. First person to email me and say they want it gets it! Money order or check is fine. Thanks Sold
Original Vac Man Aluminum Dip Mold
Here is another Great one of a kind Aluminum Dip mold from the early 1990s Vac Man series.This Mold was used in the production of the actual Stretch Figure and still has the talc powder residue on it as the realease agent for the latex. Hurry before another stretch collector scoops it up. Only one I have! $189.00 includes shipping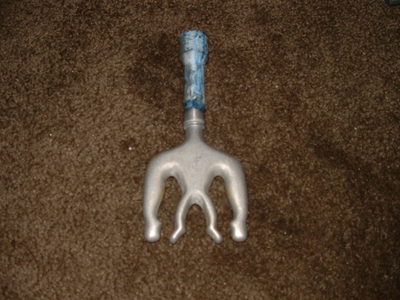 I cant begin to tell you how rare this stretch armstrong mold is.This is the actual Alluminum Armstrong Mandrel from the 1970s that was used by Kenner to make the first Armstrongs of old. I have only seen 2 of these in all my years of collecting and have talked to many people and they have not seen them. Whomever buys this Mega Rare piece of Kenner History will be one Lucky person. I am selling one of my two and thats most likely the only chance anyone will get to own one. After production ended,these Molds were thrown into large vats and melted down and destroyed. These are very heavy and solid. You can polish thes molds to a high shine with the right tool or leave them original.A cheap price to pay once and own it 4 ever! $799.00 -plus $10.00 shipping SOLD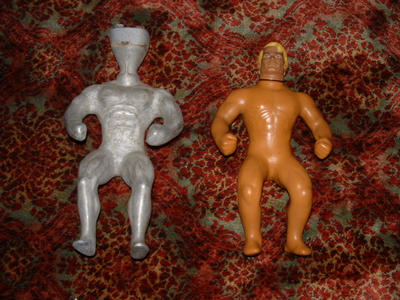 Below, Stretch Armstrong / Stretch X-RAY Original factory production Molds. Cost per Mold $275.00 each,Only 2 Left, Hurry!
These are the original 14 inch stretch armstrong molds that were used to produce the 1992 Stretch Armstrong figures made by Cap Toys!.These are extremly solid heavy metal molds. Very rare item. They are still coated with the talc powder that was used as the realease agant for the latex. I am selling only these 3 molds.These Molds can be polished with the right tool to a high chrome shiney finish or left original .Im keeping one for me.A true stretch collector has got to have one of these!!! There are no more as the factory that dipped these molds has closed its doors for good only a few days ago. You wont get another chance. $275.00 per Mold, 2 Molds for $500.00 Shipping is 14.00 for one Mold and $20.00 for 2 Molds.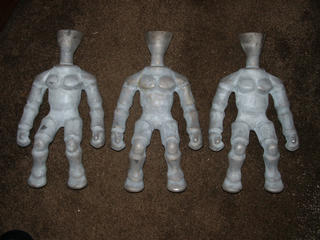 What a rare piece this is! Stretch Rhinoserous ??
I have no idea what stretch figure this is. Tis aluminum dip mold came from the factory that also made the stretch armstrongs and all the other stretch figures. This seems to be a prototype of some kind. One of a kind mold you wont find again. Measures about 10 inches, very solid and heavy. $ $249..00 includes shipping SOLD