---Stretch Armstrong World Value Guide page 1---
What Are They Worth? $$$$. We will see on the next 4 photo pages Please use your own judgement when purchaseing these fine Stretches, As there is never a garuntee on what you may buy or sell them for. These appraisals are based on what I have seen these stretches sell for on ebay, Actual purchase offers, and private sales as well as their condition, completeness, ie paperwork, neck tags, softness, rareity, and what I have seen collectors like myself pay. Please keep in mind ,these prices are for the complete package which are seldom found all together. Many recent sales have actually sold much higher than some of these appraisals and hence forced me to increase there values.These appraisals if anything are very conservative figure. Some more recent sales of December 2007 being 5 stretch figures sold for almost $10,000! and a Denys fisher Stretch Hulk selling for over $4,000 ! as well as a Mego Elastic Batman seling for $7,500 in March of 2008.And the only Mint Batman reaching 15,000!You may ask, Stretch King, why are these Stretch Figures so valuable? Well boys and Girls, you must understand that any toy that has such limited quantity remaining as well as the potential for any remaining stretch figures today to be mistreated, and stretched to ruin creates a very very rare item with still declining numbers today. Not to mention Stretches were produced by the number one toy company's in the world, Kenner and Mego!These are not PVC action figures. Stretches are are very unique action figure requiring great care. Imagine having one of these babies in 20 to 30 more years when there are even fewer remaining.The other reason these Stretch Figures are in fact so valuable is due to that fact that they really shouldnt even be around today . Most were torn apart in the first few days of 1976 christmas, and most others were just plain old thrown into the garbage after being left in a 110 degree attick or a freezing garage which caused them to ooz and split. Luckily the few that survived were randomly stored in the right,cool, dry locations and if continued to do so can be preserved for another 30 years and more .These Vintage and very valuable Stretches are no longer for play although I must confess to a few stretches myself now and then. In most cases these prices would go much higher depending on a buyers financial status or the demand for a particular Stretch figure.Remember, When you find a Stretch figure, you are very lucky to share in somthing that most people will never have.There are only a handful of these vintage figures left in the world today. I will be reevaluating the appraisals from time to time due to the limited circulation of these awsome collectable figures and most recent sales. If you own any one of these vintage stretch figures, you have a great investment that will grow to a small fortune in years to come.This is the only place you will find actual true values set for these great vintage collectables, right here on Stretch Armstrong World, Enjoy
The Original Stretch Armstrong Figure is becomming more valuable by the year as the very few remaining figures are being scooped up by collectors all over the globe leaving only the last stragglers to be found in very limited quantity.A most awsome figure that is the Tarzan of the Strech Kingdom World.This value for the Original Vintage Stretch Armstrong from 1976 is when the figure is mint with no blemishes to the skin,No Leaks anywhere,ie neck.Still somewhat soft (compareable to warm taffy)at room temperature.Head must be perfect with all paint present. And all paperwork. Instruction Book,Stretch mat, all bandaids and super rare plastic Baggy that holds bandaids,Neck Tag, Styrofoam coffin and Lid. Box with all sides and top flap intacked,not taped on. Value $1,800.00 to $2,500, A Stretch Armstrong in need of repairs may sell between $400.00 and $550.00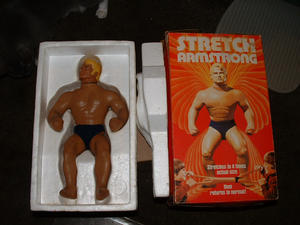 $$$$$$$$$$$$$$$$$$$$$$$$$$$$$$$$$$$$$$$$$$$$$$$$$$$$$$$$$$$$$$$$$$$$$$$$$$$$$$$$$$$$$$$$$$$$$$$$$$$$$$$$$$$$$$$$$$$$$$$$$$$$$$$$$$$$$$$$$$$$$$$$$$$$$$$$$$$$$$$$$$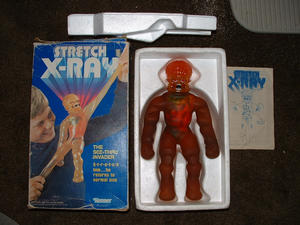 Stretch X Ray Figure The X Ray has become much more rare these days. A most recent ebay sale of over $728.00 has brought this x rays value to a much higher level. Keep in mind these X's are one of the original first 7 stretches to be produced , what I like to call the Alpha 7. . By no means should the X be ignored.The Stretch X Ray is often found more stiff than the rest because they were originally mixed a bit stiffer. They are the best preserved out of all the stretches. They were also coated with silicone, as was the monster and armstrong which no doubt has a lot to do with how well they have endured the past 30 years.A fine looking specimen I must say.The only stretch with transparent skin. Often the skin is found cloudy which indicates handling. So if you find one thats clear, it means it has not been touched much. If you collect only the Original Vintage Stretches, you must have this one.These X's are starting to become much more scarce lately.Neck Tag ,plastic square bag that goes over head from factory,Instruction Book,Styrofoam coffin and lid.Box all flaps and 7 to10 condition. Also must be at least flexible. Depending on the skin transparency these X Rays can hit a Value of $500.00 to $800.00
$$$$$$$$$$$$$$$$$$$$$$$$$$$$$$$$$$$$$$$$$$$$$$$$$$$$$$$$$$$$$$$$$$$$$$$$$$$$$$$$$$$$$$$$$$$$$$$$$$$$$$$$$$$$$$$$$$$$$$$$$$$$$$$$$$$$$$$$$$$$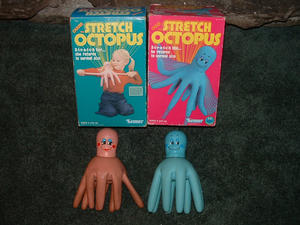 The Stretch Octopi Ollie and Olivia are actually a pretty rare item lately and are becomming more scarce by the year. There was a modest quantity of Octopi produced and most of the ones I have seen are hard or dirty. These octopi pals were produced to reach a younger age group which is why they are found dirty more than other stretches as they were handeled by those younger dirty little hands.I wouldnt be suprised to see them fetching a bit more than the appraised value at times.Octopi are found hard about half the time .Finding a soft and clean one is a great thing. Whats cool about these octopi is that they are very unique stretches in that they deviate from the common humanoid anatomy joining the serpent as the only non human form of stretch figure. I must say that of the 2 octopi's, the Olivia is way more scarce thus more valuable than the Ollie Octopus.This value is for the octopi including ,Neck Tag,Styrofoam Coffin and Styro top,Instruction Booklet and a Box with all flaps and sides. Due to most recent sales I have increased the Octopis value .Value for the Ollie Octopus,$450.00 to $500.00 Value for the Olivia Octopus, $500.00 to 685.00 as a Pair $1,000.00
$$$$$$$$$$$$$$$$$$$$$$$$$$$$$$$$$$$$$$$$$$$$$$$$$$$$$$$$$$$$$$$$$$$$$$$$$$$$$$$$$$$$$$$$$$$$$$$$$$$$$$$$$$$$$$$$$$$$$$$$$$$$$$$$$$$$$$$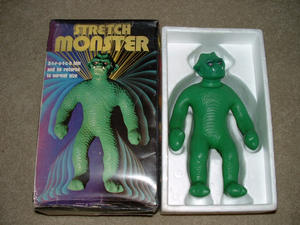 Stretch Monster Is a favorite among collectors no doubt. It is personally one of my top 4 favorite Stretches. The Green color,the scalely skin, freaky monster from the black lagoon type head. No wonder its one of the greatest stretches. These are very often found still soft. Tend to have a little seepage around the neck area so I reccomend storeing these on a slight angle with head at the highest point.The Kenner version seems to be a slightly different green color than the Italian release.The skin seems a bit more shiny too.May only be the case in my Monsters.Also the Kenner release is more valuable to collectors than the Italian release Monster or Jap Monsters , but the Italian Monsters for some reason, are often found extraordinarally mint. This value is for a Monster with a c 10 box which are very difficult to find, the instructions, Monster neck tag (seems to be 2 different types of tags,rectagular or round),Monster do not put in freezer square paper, styrofoam coffin and lid (Italian version has Black plastic coffin with small top lid piece). A most popular and valuable stretch.Value $1,800.00 to $2,500
$$$$$$$$$$$$$$$$$$$$$$$$$$$$$$$$$$$$$$$$$$$$$$$$$$$$$$$$$$$$$$$$$$$$$$$$$$$$$$$$$$$$$$$$$$$$$$$$$$$$$$$$$$$$$$$$$$$$$$$$$$$$$$$$$$$$$$$$$$$$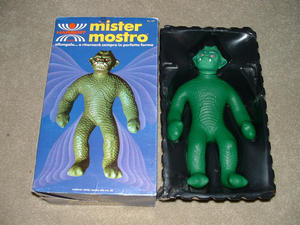 The Stretch Monster released from Italy definitely one of my favorites,especially because Im 100% Italian Heritage.But Im sure nobody could give a shipping can get a little pricey on these when sent from Italy,But who cares as long as you get it!Try to buy one directly from Italy or from me if I ever sell one because I got my 2 Mostros from Italy a few years ago.These Monsters are awsome! with the nicest most supple skin out of all the stretches.The Mostro has seemed to vanish as quickly as it appeared . Last Mostro sold was almost one year ago.This stretch comes in a black plastic coffin and a small top matching piece that fits over the chest area very similiar to the Denys Fisher Stretch Incredible Hulks Coffin..Also comes with instruction booklet. Value is for a c 10 box, Instructions, plastic coffin and top piece. You have to have one of these for sure.Value $1,200 to $1,800 depending on its condition.

$$$$$$$$$$$$$$$$$$$$$$$$$$$$$$$$$$$$$$$$$$$$$$$$$$$$$$$$$$$$$$$$$$$$$$$$$$$$$$$$$$$$$$$$$$$$$$$$$$$$$$$$$$$$$$$$$$$$$$$$$$$$$$$$$$$$$$$$$$$$$$$$$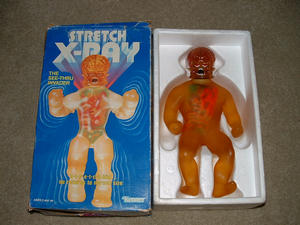 The Box pictured is incorrect,I will list the right one soon. Stretch X ray By Chad valley in the UK Is a rather rare find. I only have seen 3 of these in 5 years and I sold one of my 2 to some lucky guy on ebay. This X has the X ray Head and a Armstrong man body. They seemed to be a little stingy on the syrup when they filled these. A Black o ring was used to attatch the neck just like the stretch armstrong. The kenner x ray neck was attatched with a white plastic Zip tie.This appraisal may be a bit low. Untill I see a few more sales of these very hard to find X's ,I will keep the price as stated, however I expect these x rays to become much more valuable in the near future. This value is for a Stretch X ray ,still soft, Box in fair condition,styrofoam coffin and lid, instructions.Value $400.00 to $650.00
$$$$$$$$$$$$$$$$$$$$$$$$$$$$$$$$$$$$$$$$$$$$$$$$$$$$$$$$$$$$$$$$$$$$$$$$$$$$$$$$$$$$$$$$$$$$$$$$$$$$$$$$$$$$$$$$$$$$$$$$$$$$$$$$$$$$$$$$$$$$$$$$$$$$$$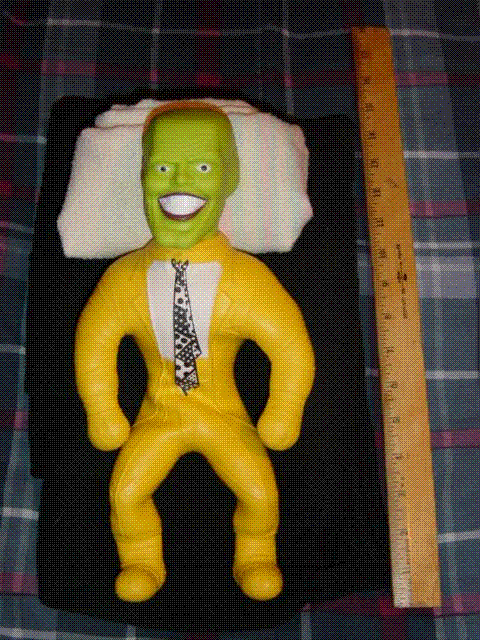 The Super Stretch Mask! This is a full size stretch figure.This is one rare figure.Only 7 of these Masks have surfaced in 7 years,And I happen to have 5 of the currently 7 known examples.Thats because there is said to have been only a total of 10 to 50 ever made and only very limited boxes.I have 3 boxes.This information came straight from the Hasbro Employee who worked on them. I do know where one more of these Stretch Masks are.There is absolutely no information on these Stretch Masks anywhere on the internet except for a new site called the Unofficial Mask Website. This site is where you will find the most information on these Mask figures.I also contacted Hasbro and Kenner and they have no record of producing these figures even though the box has both Hasbro and Kenner names on it.Whats really amazing about these Masks, is the high value they are already achieving for what is a more recently produced figure of 1995.Wow! This is one obscure stretch.There may be one out there that has the complete paint work but I was told none were completed with the final pocket, however recently A Stretch Mask figure was found at a Flea Market in Florida that has the complete paint work, Shirt, Tie and incredibly the pocket! Making this particular Stretch Mask the most valuable of all to date.l have 3 non painted yellow, the 4th and 5th shown here has the shirt and tie, but is missing the Pocket.These are prototype figures that never went to production. Dont think they would put these out on the store shelves unpainted.They are a very very rare and highly wanted Stretch that is one of the top valued stretches up there with the Serpent. Box and Stretch come with a crudely fasioned cardboard insert. Box is pictured on the Slide Show Page. Also see all five of my Super Stretch Mask figures on the Mega 40 page. Gotta luv um! The following values are for Boxed figures only. The Boxes are more scarce than the figure making it very crucial to its value. Value Unpainted $1,900 Painted Shirt and Tie $3,200 Complete paintwork $3,700 and increasing by the year.
This is one cool stretch, Who Knows, Maybe Jim Carrey has the completed mask??
More Stretch Values on page 2