The Stretch Armstrong Movie Review
The Stretch Armstrong Movie may be the Blockbuster Hit of the year. Confirmed release date is now set for April 15th 2012.
GET READY FOR "STRETCH ARMSTRONG: THE MOVIE"
On January 16, 2008, American toy company Hasbro, Inc. filed to protect the trademark Stretch Armstrong in relation to "production and distribution of motion pictures, television programs, television games shows and cartoon series; on-going television programs in the nature of children's game shows and animated television cartoon series; providing interactive computer games by means of a global computer network."Hasbro filed way back in 2003 for a Stretch Armstrong trademark related to a movie and TV show. While that trademark is still active, this more recent filing could be an indication that a Stretch Armstrong movie is one step closer to reality.
According to IGN and others, The Hollywood Reporter reported back in 2000 that Jackie Chan was negotiating with Disney to co-develop a Stretch Armstrong action-comedy feature. The story at that time was said to focus on Chan as an "uptight Chinese spy and martial artist who stumbles upon a secret formula that gives him stretching powers." With his newfound abilities, the character, who was previously in control and used precise fighting moves, must adapt to use his new skills. However,the project had been creeping along in development for years before the announcement of Chan's potential involvement. And Chan was the third actor to be associated with the project. Previous potential "Stretches" were Tim Allen, and Danny DeVito.
While the Stretch Armstrong page at Hollywood.com still lists detailed cast and crew info for the rumored film, there is currently no film-related Stretch Armstrong entry on IMDb, or reference to the film on the pages of the people and companies supposedly involved. Mork wonders if this new filing suggests that new developments and/or news on the Stretch Armstrong project is forthcoming.Below are the production Credits associated with the movie.
Stretch Armstrong Movie Production Credits
Screenplay - Bill Collage
Screenplay - Adam Cooper
Producer - Doug Draizin
Producer - Brian Grazer
Screenplay - Craig Mazin
Studio Executive - Brigham Taylor
Screenplay - Greg Erb
Production Executive - James Whitaker
Screenplay - Jim Ferguson
Screenplay - Robert Shallcross
Screenplay - Chris Hauty
Screenplay - Michael Colleary
Screenplay - Michael Kalesniko
Production Executive - Sarah Bowen

Company Information
Production Company Universal Pictures
Title: Stretch Armstrong
Status: Announced
Country: United States
Genre: Comedy, Adventure, Fantasy
Feb 20th 2008 Movie Report
Movies based on "Stretch Armstrong" could be heading to a cinema near you, thanks to a deal struck between toy giants Hasbro and film company Universal Pictures.
A six-year partnership between the two has been announced, with at least four feature films based on branded properties promised.
The deal comes after the success of Hasbro-themed movie "Transformers," which was put together by DreamWorks and Paramount. A sequel is scheduled to begin production this year.
Meanwhile, Hasbro's "G.I. Joe" - another Paramount movie - is set for a 2009 release.
Bizarrely, a "Monopoly" movie is already in the works, developed by Ridley Scott and Scott Free.
"This deal gives Universal access to some of the greatest brands in the world," Universal chairman Marc Shmuger and co-chairman David Linde said in a statement. "Hasbro's portfolio of products has tremendous emotional resonance with children and adults. They offer an exciting opportunity for us to develop tentpole movies with built-in global brand awareness, which is a key component of our slate strategy."
Hasbro chief operating officer Brian Goldner added: "Universal's creativity and worldwide marketing and distribution strength make them the perfect partner. Today's Hasbro is so much more than a traditional toy and game company, and this partnership is a powerful example of how we are offering our consumers new ways to enjoy unique and immersive experience with our brands."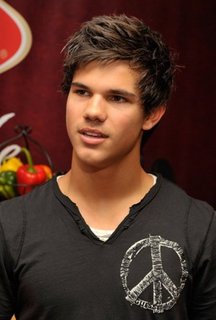 Jacki Chan below with an uncanny resemblence to the Stretch Armstorng Figure of old minus the blonde hair.Jacki was to be the Stretch Armstrong however now Stretch is to be played by Taylor lautner of the series twilight.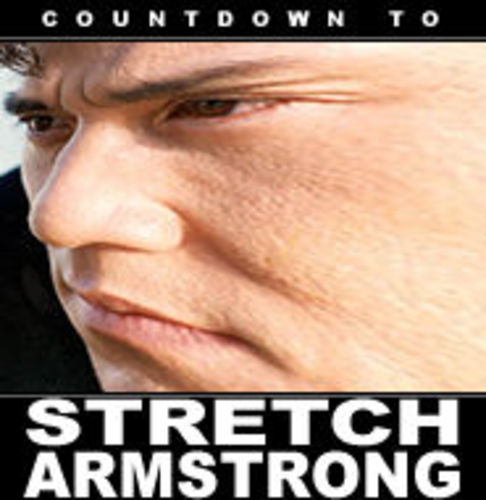 In an announcement Friday evening that updated the status of its Hasbro-branded tentpoles, the studio said "Stretch Armstrong" will be shot in 3D. Universal also said it's pushing back action-adventure "Battleship" from July 2011, to May 25, 2012.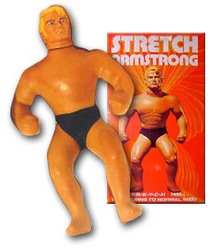 Stretch Armstrong" had been planned for an April 2011 release but U said Friday that the additional time will allow it to shoot in 3-D and accommodate Lautner's existing commitments, which include two more "Twilight" films and "Max Steel" at Paramount.
Taylor Lautner to play Stretch Armstrong? Im not sure I like the choice myself.I think Jacki Chan would have been a much better choice however Taylor may fill the roll just fine.We will have to wait and see.It will also be interesting to see what the character will look like.Will Strtech Arsmtrong look like the original figure from 1976? Will he look more like taylor Lautner himself? there has been speculation about this topic howver noeone knows for sure what Stretch will look like.not even the Stretch King himself knows.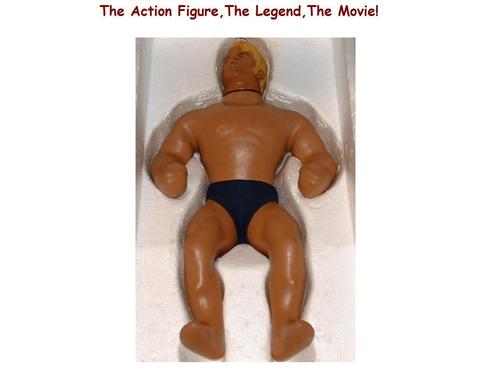 Universal Pictures and Hasbro, Inc. have formed a six-year strategic partnership to produce four motion pictures based on the games "Monopoly," "Clue," "Ouija," "Battleship," "Magic,the Gathering" and of course "Stretch Armstrong."Under terms of the deal, Hasbro will partner exclusively with Universal Pictures for feature films, with the exception of "Transformers" amd "G.I. Joe".The first movie from the new deal will be released in 2012, and Universal will release at least one film a year thereafter.Stretch Armstrong is slated to be released first in the series.