Ooze It ,"The one hit Wonder"
Here is one of the most obscure 1970s toys ever!Although it is not classified as a stretch figure, it is made of latex and does get filled with a type of syrup as do the stretches. The Ooze It toy has got to be the funkiest toy that ever came out of the 70s.Ooze it was thought up and designed by a family in Metairie,Louisiana and produced overseas in Hong Kong. I mean this toy is totally bitchen and outta site! Oooze It Incorporated produced only this toy that has become its "one hit wonder". No other era but the 1970s could have spawned such a "far out" toy that's just as gross, as it is groovy!This wicked Ooze It is so incredibly rare that only 5 are currently known to exist at the present time.Now dude,I aint jiving you when I say the Ooze It is totaly tight and off the hook! I mean just looken at this sweet toy will make you feel like you got stoned off of cheech and chong's giant Doobie! So next time you are lucky enough to see the Ooze it,dont be a jive turkey,just buy it you dig? you wont regret it,peace out!
Value of a Mint in box Ooze It toy: $600 to $1,000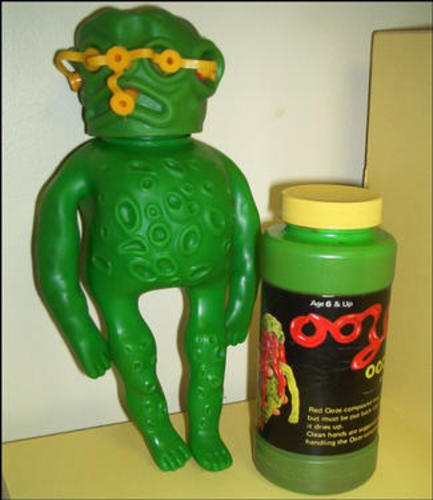 Oooze It number 1.complete with Orphas plugs,regurgetated groovy goo and box not shown here.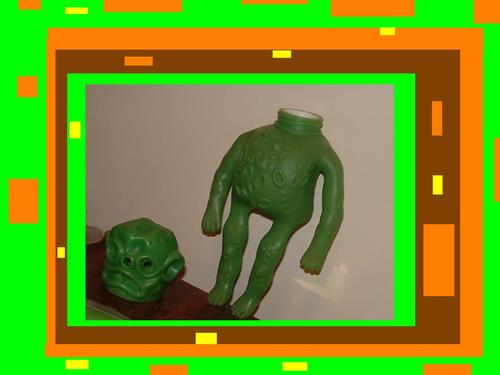 Oooze It #2 with his head unscrewed! Figure only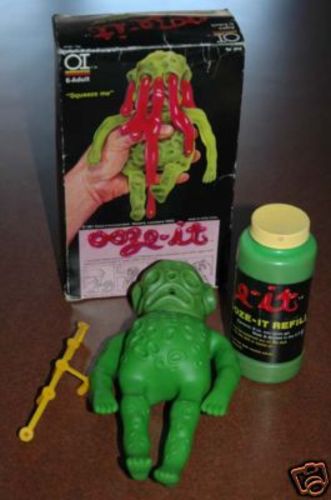 Ooze It #3 Complete with Box,Orphas Plugs and Groovy Goo!
A very special thanks to AVA for turning me onto The Ooze It. Without her I would have never found this most amazing 70s toy.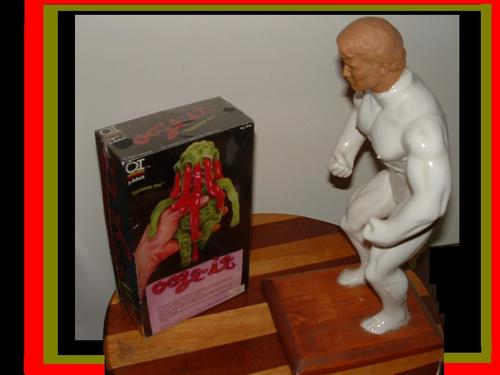 Oooze It #4 is one of only 2 unopened shrinkwrapped sealed Oooze It's in existence to date.The Orphas plugs,Groovy Goo and Oooze It figure remain inside this unopened box unseen by human eyes for over 30 years.Even Stretch Armstrong stands in awe as his soft body turns to stone from the powers that be as he gazes upon this magical unopened Oooze It.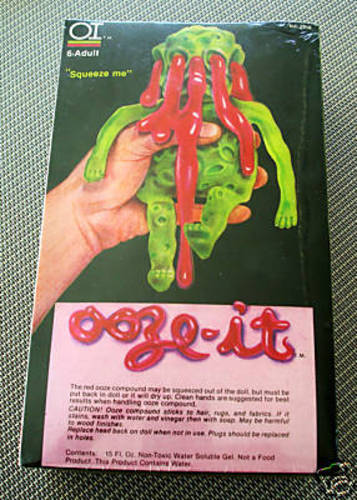 Ooze It # 5 has strangely appeared on April 17th within only hours after the number 4 Oooze It appeared on ebay. This is highly unusual for such a rare toy to appear twice in one day when many years have past without even one found. Ooze It number 5 is now the second Ooze found still sealed in its box.This looks to be an extremely minty box that should bring in the bucks.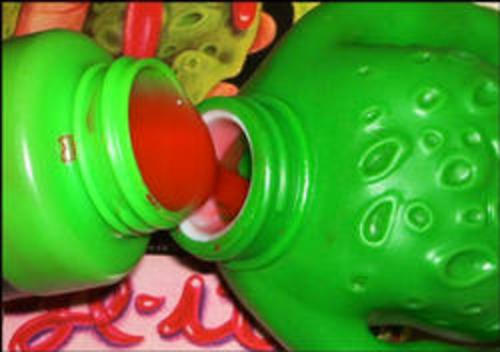 Just pour the Goopy red Groovy Goo Gel into the Ooze It and attatch his head and OOZE.....AWAY...........!!!!!!!

OOOOOOOOOOOOOOOOZZZZZZZZZZZZZZZZZZZE IT!!!!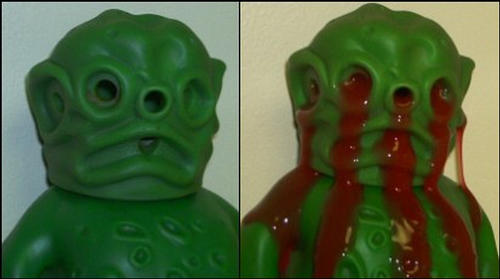 This is where Oooze It got its name. Just look at that cool groovy goo pouring out of every orphas! Are you kidding me? This has got to be the winner in the Butt Ugly Contest if I ever saw one. As discusting as Ooze It may be, I must say I find Absolute Beauty in its design. Whomever thought this freak up should definitlely be locked away because no normal brain would ever think up something this strange.Oooze it even has its own company name on the box made by "Oooze it Inc". Origianl price lable on the box reads $9.00. I Love It! I totally Love Ooze It !!